If you would like to discuss your repair or have further questions, please fill out the form on our
Contact Us
page here.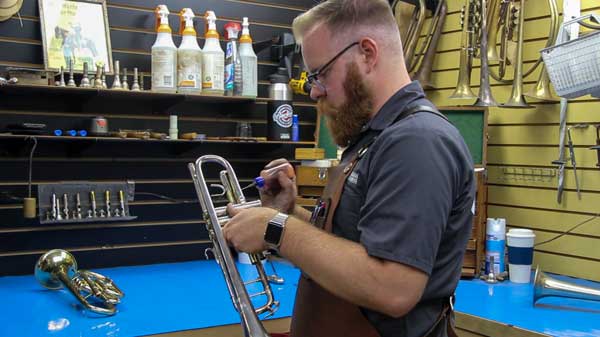 Crafting and repairing musical instruments is our passion.
Musicians pour their souls into their art of making beautiful sounds. Being musicians ourselves, we understand the connection between the musician and their instrument. Instrument repair and maintenance is crucial.
As skilled craftsmen, we want the musical instruments that pass through our hands to not only be capable of generating the sounds that you desire, but to be symbolic of the passion that we have for a craft that is centuries old. In depth knowledge and hands on experience in the design and fabrication of instruments is what we have to offer.
A craftsman's approach to instrument repair is different from a repairman's approach.
Understanding how instruments function acoustically and mechanically and how they are fabricated allows us to approach instrument repairs differently.
With there being more and more instruments of unknown origins, obtaining replacement parts is a daily challenge. With our capabilities we are often able to fabricate needed parts. Repairmen are often hesitant to attempt fabricating parts. We as craftsmen invite these challenges as we can not only replicate but sometimes improve upon the integrity of an instrument by fabricating new parts.
When replacing off the shelf parts, be assured that we only use the best quality parts and materials. The parts we install or make will meet or exceed the integrity of the parts that are being replaced.
Lastly, but most importantly, we are committed to making sure your instrument is set up, works, and plays the way you want it to. For you the artist, the instrument should be transparent, malleable, and enjoyable. When instruments leave our shop, we take pride in saying, " We did that!" Not only should it function flawlessly, but it should show that a craftsman took great pride in their work.
Musical instruments are investments.
Some are more expensive than others. No matter the value of the instrument, making sure your instrument works as it should and the way you want can help maintain its value.
Like any man-made mechanical device, instrument repair and maintenance is crucial. Simple cleanings, routine lubrications, bore oilings, scale removal, all of these are just a few of the things that aid in making sure your instrument will last.
With over 40 years of combined experience in the musical instrument industry, our resources are vast. Have a question about our instrument repair? Get in touch!
If you would like to discuss your repair or have further questions, please fill out the form on our
Contact Us
page here.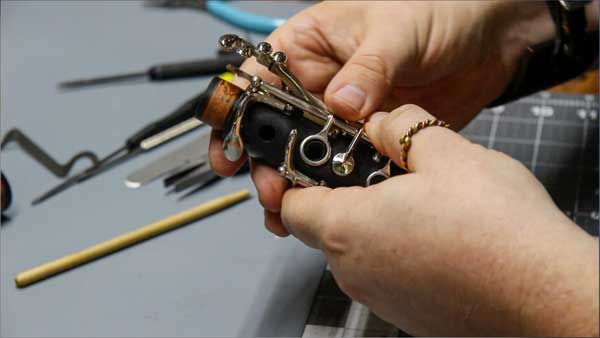 Woodwind instrument repair:
The Basics
COA

(Clean, oil, and adjust)

Ultrasonic cleaning

Oil keys, adjust and regulate

Pad replacement (skin or cork)

Tenon cork replacement

Dent removal

Spring replacement
In depth instrument repair
Complete repad (includes tear down, cleaning, key fitting, key corks, adjust and regulate) (specialty pads available upon request)

Crack pinning

Key alterations adjustments and fitting

Key fabrication

Head joint, tenon and neck fitting

Finish work, polishing, buffing, relacquer and plating

Bocal fitting and crack repair

Tenon stringing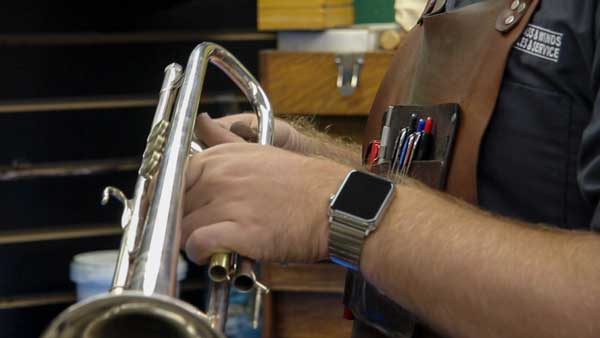 Brass instrument repair:
The Basics
Slide pulling

Solder joints

Dent removal

Chemical and/or ultrasonic cleaning
In Depth Instrument Repair
Screw bell conversions

Mechanical conversions

Slide fabrication

Valve adjustments, venting, rebuilding and installs

Complete instrument refinishing

Ground up design and fabrication
If you would like to discuss your repair or have further questions, please fill out the form on our
Contact Us
page here.