122nd Army Band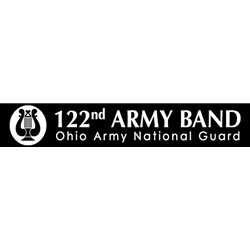 The precursor of the 122nd Army Band was organized in July 1927 as the Band of the 107th Cavalry of the Ohio National Guard in Akron, Ohio. On June 1, 1944, while deployed to Bougainville, Philippines, in the Pacific Theater of World War II, the band was reorganized with members of the bands of the 145th Infantry, 129th Infantry, and 134th Field Artillery to form the new 37th Infantry Division Band of the Ohio National Guard. While serving in the Philippines, the 37th Infantry Division Band took part in amphibious landings, protecting Major General Beightler and the division HQ through the fight. This baptism by fire earned the band the Meritorious Unit Commendation.
After the close of World War II, the 37th Infantry Division Band returned to Ohio. In 1968 the unit was reorganized again as the 122nd Army Band of the Ohio Army National Guard. After the deactivation of the 555th Ohio Air National Guard Band in Toledo and down-sizing of the U.S. Air Force Band of Flight at Wright-Patterson Air Force Base in Dayton in 2012, the 122nd Army Band was left as the largest military band in Ohio, tasked with supporting operations across the state.
In 2007 the 122nd Army Band performed for halftime during a game of the NFL's Cleveland Browns, and the following year at Paul Brown Stadium during a Cincinnati Bengals game. In 2014 the 122nd performed twice at the legendary Severance Hall in Cleveland in joint concerts with the Cleveland Pops and with the Belgrade Philharmonic Orchestra.
In 2017 the 122nd marked a successful transformation from traditional military band to a multi-faceted unit comprised of flexible and versatile ensembles capable of performing for a wide range of missions, from parades and ceremonies to rock concerts, children's shows, and popular music. The transition was recognized by the Army Music Program with an MPT of the Year award in an Army-wide competition against other National Guard bands, as well as Army Reserve and active duty units. The 122nd won a second MPT of the Year award in 2018. In 2019 the 122nd marked its 75th year of continuous service to Ohio and the United States.
(courtesy the 122nd Army Band)
More information about the 122nd can be found at https://www.122ndarmyband.com/.