Metropolitan Chamber Orchestra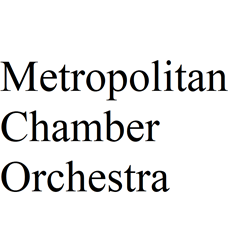 Metropolitan Chamber Orchestra was founded in February 1979 by a group of amateur musicians with ambitions to play chamber music. Now expanded to almost full symphonic size, MCO offers playing opportunities to musicians whose expertise ranges from beginners to semi-professional. Ages have ranged from ninety-three to fourteen. The common denominators are enthusiasm and dedication. We do not require auditions and we are always eager to add new string players to our ranks. We welcome new wind and brass musicians, but do have established players in those chairs; however, we frequently use extra, or stand-in players for all wind- and brass-instrument positions, both for rehearsals and for performances.
MCO has enjoyed a succession of professional conductors. Timothy Russell—conductor of ProMusica of Columbus—was followed by Timothy Muffitt (Baton Rouge and Lansing Symphony Orchestras), Steve Wedell, Kenichiro Matsuda, and Richard Cioffari. We have now enjoyed more than a decade of challenge, excitement, and wonderful music under the baton of Luis G. Biava.
(courtesy the Metropolitan Chamber Orchestra)
More information about Metropolitan Chamber Orchestra can be found at http://www.metropolitanchamberorchestra.org/.