Worthington Civic Band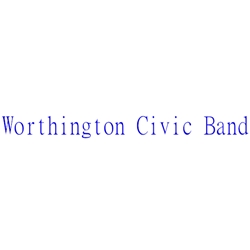 The Worthington Civic Band was formed in 1973, and is sponsored by the Worthington Parks and Recreation Department. The band has performed at the 1975, 1993 and 2001 American School Band Directors Association National Conventions, the 1983, 1989, 1992 and the 1998 Ohio Music Education Association State Conferences. In addition to local concerts, the band performs for many area retirement and nursing homes, as well as for charity fund-raising functions. They also collaborate with Junior and Senior High School Bands on concerts to promote "life long learning" Members range in age from 24 to 85, and many were college music majors. They must be past high school age and attend weekly rehearsals.
The band traveled to Europe in July 1992, playing concerts in Germany, Austria and Switzerland. In the summer of 1995, they performed in Amsterdam, Brussels, Paris and London and in July 1997, performed at Disney World. The band toured and performed in Australia in July 2000 and performed in Hawaii in June 2001. In June of 2003, they traveled to Italy, performing in Venice, Florence and Rome. The band traveled to Ireland and Scotland in July 2007, performing in Kinsale and Dublin, Ireland and Edinburgh, Scotland. Most recently the band traveled to Spain and Portugal in July 2010, performing in Madrid, Carmona and Lisbon.
All members volunteer their time, and also pay their own way on trips. Donations received by the band are used for incidental expenses.
(courtesy the Worthington Civic Band)
More information about the Worthington Civic Band can be found at https://worthingtoncivicband.org/.