ProMusica Chamber Orchestra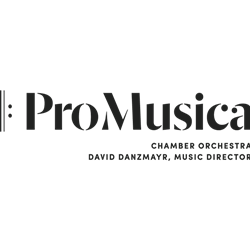 Established in 1979 by Timothy Russell and Richard Early, our co-founders believed that great cities have great orchestras. From its early beginnings, ProMusica committed to three strategies for carrying music forward — performing; educating; and commissioning new works. These valued activities and their intention to create quality opportunities for musicians and audiences remain at the heart of ProMusica to this day.
Reaching a broad audience, ProMusica performs at the intimate Southern Theatre in downtown Columbus in which it is the resident orchestra, and goes beyond the city limits, presenting concerts at the Worthington United Methodist Church. The orchestra presents an annual Summer Music Series of outdoor performances at the Franklin Park Conservatory & Botanical Gardens, and offers unique and intimate chamber ensemble concerts at non-traditional spaces including Natalie's Coal-Fired Pizza, Brothers Drake Meadery, and Wolf's Ridge Brewing. In 2017, ProMusica made its Chicago debut performing for a sold-out crowd at the prestigious North Shore Chamber Music Festival. Chicago Classical Review noted the ensemble's "robust unified string timbre [was] most impressive, having an abundant Mozartean grace."
ProMusica's performances are time-tested and modern, presented in ways that few orchestras can. Widely recognized as a national leader in promoting contemporary repertoire, we have commissioned 68 pieces and programmed over 120 world and regional premieres by composers including Pulitzer prize winners Kevin Puts and Aaron Jay Kernis, Joan Tower, Gabriela Montero, Michael Daugherty, Lera Auerbach, Gabriela Lena Frank, Mark O'Connor, Conrad Tao, and Joshua Roman. ProMusica has an active recording program with thirteen CDs released to date, including world premiere performances of our commissioned works. Our innovative NAKED CLASSICS series with renowned host and presenter Paul Rissmann, explores classical music in a fresh and completely approachable format. We are one of the few American chamber orchestras to have performed an entire Schubert Symphony Cycle (including Schubert scholar Brian Newbould's finished versions of Unfinished and Symphony No. 10) and recently completed a two-year Beethoven Symphony Cycle.
Similar to many of our international guest artists, we embrace an array of eras and influences. The orchestra has forged unique collaborations with crossover artists including Jon Batiste, Steep Canyon Rangers, Time for Three, Ricky Skaggs & Kentucky Thunder, and Bela Fleck and the Flecktones. This is all a testament to the world-class musicians on stage who thrive on artistic exploration and risk-taking — performing with the highest skill, emotion and humanity for our audiences.
Deeply rooted in our city's cultural fabric, our outreach programs impact approximately 17,000 lives each season. ProMusica musicians travel to local schools serving as teaching artists, senior citizens attend working rehearsals, and underserved youth are given life-changing opportunities through the power of music. Programs such as "Play Us Forward" offer integrated, in-school based music curriculum, while Storytime and family concerts at Columbus Metropolitan Library branches provide arts access in nurturing neighborhood environments. "Coda: Post-concert Conversations" offer the opportunity for a direct dialogue between audiences and guest artists — deepening engagement with the music and performers. Our free Summer Music Series demonstrates our unwavering commitment to offer accessible and transformative musical experiences to all residents in our community.
ProMusica has won eight ASCAP awards for Adventurous Programming and has received additional honors, including from the Greater Columbus Arts Council and the Columbus Jewish Foundation. In 2015, 2016, and 2018, the orchestra was selected as a recipient of The Columbus Performing Arts Prize, an esteemed award designated to celebrate and support the exceptional artistic directors of Columbus' performing arts organizations and their aspirations for creative growth. In April 2019, ProMusica was named one of the "5 Nonprofits to Watch" by The Columbus Foundation.
(courtesy ProMusica Chamber Orchestra)
ProMusica Chamber Orchestra's website can be found at https://promusicacolumbus.org/.