The Loft Violin Shop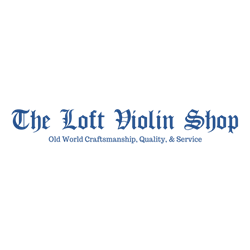 Family Owned, Local, Committed to Strings for Over 40 Years

The Loft Violin Shop traces its roots back to the Joseph Ricker Violin Shop in Columbus which dates back to the late 1800's. Richard Schlub apprenticed in the Ricker shop before starting The Loft Violin Shop with his brother - the current owner - David Schlub. Both Richard and David played with The Columbus Symphony at the time, and they identified the need for continuing quality craftsmanship and service in the Central Ohio string community.

Our dedicated staff is proud to provide exceptional stringed instruments, old world craftsmanship, quality accessories, and repairs for all musicians. Our commitment and support of local music programs is the foundation of our business.

David Schlub, the current owner and luthier of The Loft Violin Shop, graduated from Bowling Green State University in Music Education. He went on to perform with the Columbus Symphony Orchestra and later opened The Loft. Today, David plays in area ensembles as well as chamber groups. David has brought consistent quality, attention to detail, and a love of the musical community to The Loft for over 44 years.

The Loft's Quality Work Today

Along with David, our skilled craftspeople and luthiers offer exceptional attention to each instrument, whether it is for the most advanced player or a new student.

The Loft is owned and operated by professional musicians, educators, and craftsmen. From the moment you walk into our workshop you will understand our commitment to old world craftsmanship and fine stringed instruments.
(courtesy The Loft Violin Shop)
We encourage you to visit The Loft Violin Shop's website for all of your orchestral string needs.