Rigotti France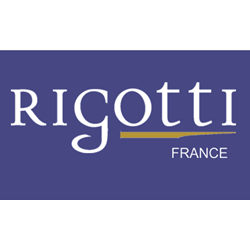 To the heart of the Gulf of Saint-Tropez, along the rivers and streams, we can see reeds. Here is where you can find Cogolin, a small Provençal village, internationally recognized for manufacture of carpet, pipes but especially for Establishment Rigotti which produce pads, reeds and tools for wind instruments (clarinet, saxophone, flute, oboe, bassoon...) since 1966.

Managed until 2012 by Franco Rigotti, then by his son Daniel, craftsman of trade, this "reeds manufacture" has forged a solid experience and a reputation up to its ambitions. The meeting with the most distinguish bassoons, obaoes, saxes and clarinettists is a true recognition of its know-how.

Rigotti Establishments, in the noise of machines, are currently working to serve and provide the best quality. The know-how to supply products for manufacturing of small precision parts from the best reeds of the world allows for a long time to export in the entire world, and more particularly with the U.S.A, Japan and Europe.

Contrary to most of reed manufacturers, Rigotti Establishments don't buy reeds but cultivate and pick their own reeds. Thanks to a growing demand, Rigotti Establishments have realized investments in new buildings (approximately 800 m2), better adapted to the volume of production.

Concerned of its image and its durability face of an increasingly aggressive competition, Rigotti Establishments have upgraded and offered a larger paddle of products to manufactures, importers, shops, and obviously to musicians...

Rigotti Establishments have totally mastered its process of production, and attached great importance to the international recognition of their know-how.