Rovner Products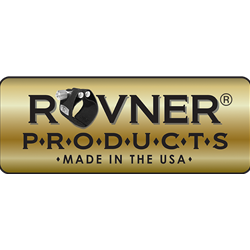 When husband-and-wife team George and Lynn Reeder signed on the dotted line to purchase Rovner® Products, they did so with the desire to honor their dear friend, Phil Rovner's, enormous contribution to the woodwind community and to grow and preserve his legacy. George had enjoyed a brief, 10-month stint as general manager at Rovner in the early 1990's. And then, in 2009, with several new ligatures he was attempting to bring to market, Phil hired George again, this time as a consultant charged with new product development and marketing. The Reeders soon became a "package deal" as Lynn's artistic touch was increasingly necessary for the company's advertising and marketing campaigns.
After almost 40 years in the ligature business, when Phil Rovner began to contemplate retirement and having the time to enjoy the fruits of his labor, the decision to sell the company did not come easily. Although George had expressed the desire to someday purchase the company many times in their almost 20-year relationship, the timing or circumstances had never been quite right. But after working directly with the Reeders for five years, seeing their work ethic, their enthusiasm, their people skills, their creativity, their management style and their genuine concern for the continued success of the company and its employees, the problem of what to do with the company was solved. He placed the fate of Rovner® Products confidently in the Reeders' hands, assuming the role of "grandfather," with full visitation rights, continued participation in product development, and absolutely no stress or responsibility. He couldn't be happier with his decision.
And so 2014 was the beginning of a new era for Rovner Products. The facility was reconfigured for better flow, every process was scrutinized and fine-tuned, and plans for the acquisition of state-of-the-art manufacturing equipment were set into motion. The Reeders brought an eclectic mix of work experience, both corporate and entrepreneurial, to their new roles. George's 19 years as a field engineer at Xerox had honed his trouble-shooting and customer relations skills. His years as general manager at a precision sheet-metal fabrication company provided exposure to manufacturing processes, quality control and human resources. A 10-year partnership in a high-end design/build remodeling company unleashed his entrepreneurial spirit as he became responsible for project planning, finances, problem-solving, and complete customer satisfaction while maintaining profitability. Now at the helm of Rovner Products, he is the company's visionary and leader.
Lynn Reeder spent most of her adult life in the hobby and craft industry, first as the art director at one of the three largest craft supply wholesalers in the country, then as partner, and later owner of a craft and needlecraft design and kit manufacturing company. She was a demonstrator at hobby/craft trade shows and is the author of several needlecraft instruction books, as well as a contributor to dozens more. In the 1990's she also wrote for several consumer magazines in the industry. Later, she became office manager for George's construction company, as well as an in-house designer/space planner for their design/build projects. Now she and George share an office at Rovner® Products, where she is an integral part of all decision-making and regularly exercises her creativity in Rovner's advertising, marketing and trade show presence. However, perhaps her greatest contribution to the company's continued success is son Alex, who is the company's technologist, human resources manager, production specialist and resident comedian.
Rovner® Products is committed to making products that truly make a difference to the woodwind player, whether eager beginner or seasoned professional. We employ the latest technologies to get the most refined results. Customer satisfaction, from distributor to end-user, is of the utmost importance. We have created an efficient, streamlined workplace, and are also committed to the personal satisfaction of our dedicated and competent employees. The Reeders are avid music-lovers, regularly yielding to music's power to open their hearts, stimulate their minds and take them down Memory Lane. With education as a primary mission of their company, they are honored to be in the position to support many musical organizations. And best of all? They absolutely love what they do.
(courtesy Rovner Products)
Rovner Products' website can be found here.